Side Effects May Vary

by Julie Murphy

(Goodreads | Amazon | Book Depository)


Publisher: HarperCollins
Source: Publisher
Pages: 336
Release Date: March 18th, 2014
Genres: Adolescence, Contemporary, Friendship, Social Issues, Young Adult

What if you'd been living your life as if you were dying—only to find out that you had your whole future ahead of you?

When sixteen-year-old Alice is diagnosed with leukemia, her prognosis is grim. To maximize the time she does have, she vows to spend her final months righting wrongs—however she sees fit. She convinces her friend Harvey, whom she knows has always had feelings for her, to help her with a crazy bucket list that's as much about revenge (humiliating her ex-boyfriend and getting back at her arch nemesis) as it is about hope (doing something unexpectedly kind for a stranger and reliving some childhood memories). But just when Alice's scores are settled, she goes into remission.

Now Alice is forced to face the consequences of all that she's said and done, as well as her true feelings for Harvey. But has she done irreparable damage to the people around her, and to the one person who matters most?

Julie Murphy's SIDE EFFECTS MAY VARY is a fearless and moving tour de force about love, life, and facing your own mortality.
I received this book for free from the source listed above in exchange for an honest review. This does not affect my opinion of the book or the content of my review.
Where I expected a deep and meaningful plot there was a bland storyline mostly based on the petty revenge of a young girl. Where I expected a mature, old-soul type main character there was a shallow teen who recovered from cancer and hates the world for it.
Characters in a Gif
Alice
I'm going to get right into this with Alice. This girl. This girl literally has a personal grudge against what seems like everyone on Earth. She's a total bitch to her best friend Harvey, who has done nothing but care for her and a terrible daughter to her parents who have to deal with their only child having cancer. Alice's M.O. is taking advantage of others, which includes manipulating people's feelings and using a serious disease to get whatever she wants.
And her first words after she finds out she is in remission? (Which isn't a spoiler because it's in the synopsis) is "Motherfucker." I mumbled. Alice was ready to die, expecting it, and almost even wanting it. She's upset because the day before she told her best guy friend something and doesn't know "how to live with that."
Let's look at a few Alice quotes:
"I wasn't a very good person unless I really made the effort to be."
"These last couple of weeks, I'd pushed him farther away while keeping him barely in reach."
Let me explain that one. Harvey, Alice's friend, has done nothing but be by Alice's side, care for her, and help her out with her revenge bucket list. He has made his feelings for her clear multiple times and she uses that to get him to do things for her and admits it. For example, Harvey had to drive her home one time and he waited right in front of her in his car while she flirts with another guy right in front of him and makes him feel like he's the rude one. Knowing he is pissed at her, she gives him a kiss on the cheek before she gets out of the car just to "appease" him.
"I think I like you," he said. It was more statement than confession. I flipped through channels, trying to pretend like I hadn't heard him because I didn't know how to respond."
"I liked that it was hard for him to be mad at me. And maybe I liked it a little too much."
"…every chance I could to bend over with my ass in the air or to brush my boobs up against Harvey's arm. I felt pretty stupid."
"I found myself plotting her demise. This wasn't okay. He couldn't be with someone, not so soon. I wanted to destroy her."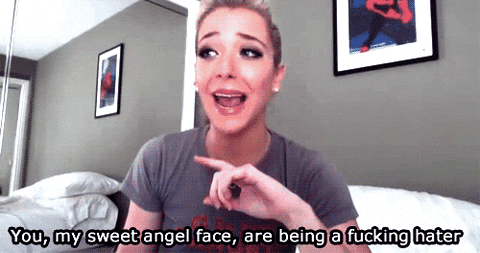 Harvey
Poor Harvey spends almost his entire SIDE EFFECTS MAY VARY life being played like a fiddle by Alice. He is constantly being pulled towards her then being pushed back, and has no idea what's going on. Does Alice like him? Why is Alice being such a bitch? Alice Alice Alice Alice etc. I would pity him if I didn't think he was so stupid for going along with all this.
He does finally come to his senses and stands up to her but it's pretty anticlimactic and doesn't last very long. So he redeemed his character (unlike Alice did) even if it was only for a moment. Someone needed to bring Alice back to the playing ground of the mere mortals after all her power trips.
As for the writing, I didn't have any real issues with it, although it was definitely more telling than showing, which can be very straightforward at times. Pacing wasn't all that spectacular either, as I found myself 20% done and thought it was more like 70%.
This is not as deep or engrossing as The Fault in Our Stars, it has more of a Better Off Friends feel combined with Revenge of the Girl with the Great Personality. It does have entertainment value, but if you can't get past Alice's behavior, this is one you might want to avoid.
*Quotes are to be check against a final version of the book.
Rating Report
Plot
Characters
Writing
Pacing
Romance
Overall:
2