Scarlet

by A.C. Gaughen

(Goodreads | Amazon | Book Depository)


Publisher: Walker
Source: Purchased
Pages: 292
Release Date: February 14th 2012
Series: Scarlet #1
Genres: Historical, Young Adult

Many readers know the tale of Robin Hood, but they will be swept away by this new version full of action, secrets, and romance.

Posing as one of Robin Hood's thieves to avoid the wrath of the evil Thief Taker Lord Gisbourne, Scarlet has kept her identity secret from all of Nottinghamshire. Only the Hood and his band know the truth: the agile thief posing as a whip of a boy is actually a fearless young woman with a secret past. Helping the people of Nottingham outwit the corrupt Sheriff of Nottingham could cost Scarlet her life as Gisbourne closes in.

It's only her fierce loyalty to Robin—whose quick smiles and sharp temper have the rare power to unsettle her—that keeps Scarlet going and makes this fight worth dying for.
Two things: a) I am writing this review a few months after finishing SCARLET. My memory is not as good as it could be, and b) If you want to know what each of the headings below mean, it might be a good idea to check out this post
Major Selling Points:
Robin Hood


Robin Hood is one of the tales I've been most interested in for as long as I can remember (though I cannot remember if I've ever seen the Disney movie version…). I just love those criminal characters doing 'bad' things for good reasons, fighting against oppressors and having grand adventures.
Kick Ass Girls


Girls who can hold their own against the guys are always great to read about. (Unless they fall into the typical, too good at everything and still beautiful stereotype. That's not fun. Fortunately our Scar isn't one of those)
Swashbuckling:

To sum up the plot of this novel according to my notes from forever ago: FLUFFY LIGHTNESS THAT IS STILL VIOLENT AND AWESOME. SCARLET is filled with fight scenes and laughs and suspense. The characters have intriguing motives and there were some really interesting characters and plot lines. Romance was more heavily part of the story than I expected, but not to unbearable levels. My only really criticism is that I did guess a few plot twists quite early on, but overall SCARLET was really enjoyable and amazing.
Lingo:

I can see people having issues with the writing in this novel. SCARLET is written in a sort of dialect.  It took a bit of getting used to, but  I really liked the way it helped project me back into the time period and into Scarlet's head. Occasionally it did get a little annoying, but overall it wasn't too bad. I've read worse.
Crew:
Scarlet


Scarlet was great! Sassy and confident and violent. Her knife skills and fights were such fun to read !! Her selflessness is admirable (though it does get to the point of not good. There is a basic level you need to look after yourself before you worry about other people).  And, of course, she has a heartbreaking background which is slowly revealed over the course of the novel. Only thing I didn't  like was her indecisiveness when it came to certain things…
Robin


AHDKSJHkdj I REALLY LIKED ROBIN. Like others, he did get on my nerves, but I loved his character overall. Always putting others first and watching out for his band. Sometimes I wished he would be a bit more forward about things though. It would have cleared up so many conflicts.
John


"Little" John was funny. The player.  The big bloke that thinks with his fist (and… other areas). I did like him but he got on my nerves a bit more than the others. Just some of his actions, his sappy words, etc happened too often (which is probably because the guy can't take a hint. Sort of)
Swoonability: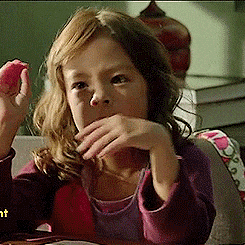 SCARLET has a love triangle and I am CONFLICTED. Yes, capital letters conflicted. On the one hand I liked the way the romance was built slowly. AND THE TENSION FKFHKJHFS But on the other Scar tossed and turned so often and the whole thing had a bigger role in the story than I thought it would. Which isn't a bad thing, but it meant less time for fight scenes and thievery.
Ships:
Robin x Scarlet
Scarlet x John
Scarlet x Knives
Much x more page time
Gisbourne x a special place in Hell
Rating Report
Plot
Characters
Writing
Pacing
Romance
Overall:
4.1