The Chapel Wars by Lindsey Leavitt

by Lindsey Leavitt
The Chapel Wars by Lindsey Leavitt
(Goodreads | Amazon | Book Depository)
Review By: Alise
Publisher: Bloomsbury
Source: Borrowed
Pages: 304
Genre: Contemporary
Series: Standalone
Release Date: May 6th, 2014
Sixteen-year-old Holly wants to remember her Grandpa forever, but she'd rather forget what he left her in his will: his wedding chapel on the Las Vegas strip. Whatever happened to gold watches, savings bonds, or some normal inheritance?

And then there's Grandpa's letter. Not only is Holly running the business with her recently divorced parents, but she needs to make some serious money—fast. Grandpa also insists Holly reach out to Dax, the grandson of her family's mortal enemy and owner of the cheesy chapel next door. No matter how cute Dax is, Holly needs to stay focused: on her group of guy friends, her disjointed family, work, school and… Dax. No wait, not Dax.

Holly's chapel represents everything she's ever loved in her past. Dax might be everything she could ever love in the future. But as for right now, there's a wedding chapel to save.
THE CHAPEL WARS was a cute contemporary read. It wasn't spectacular, but I enjoyed the few hours of fun I got out of it. Plus you can't beat the setting, Las Vegas is one of my favorite places on earth, and Leavitt really captured the magic of  it all, old and new.
Characters in a gif:
Holly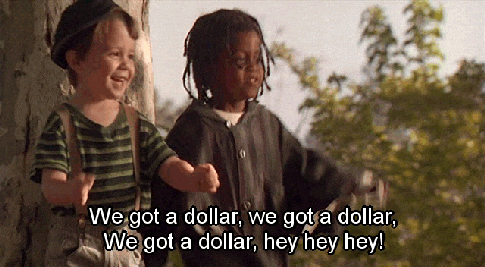 Holly's deceased grandfather left her an old wedding chapel that's about to go under with debt. Why a man would entrust a drowning business to his 17 year old granddaughter and expect to her magically save it is beyond me, but this is a fictional novel. Suspend your disbelief and all that. Anyways, her whole life now is basically doing whatever she can to try to pull in some money, including doing almost everything her grandfather was against which kind of rubbed me the wrong way.
Dax
Dax was originally described as handsome, kind of scruffy, and having a Southern accent. At one particular point in the story he was dressed in full cowboy garb which temperamentally cemented Woody from Toy Story into my head-not the best mental image.
Not to mention that the romance itself wasn't exactly fleshed out. It isn't exactly insta-love, but their relationship progresses somewhat fast and unrealistically. I did like how supportive they were of each other and their cute moments, but it wasn't a romance I could fully get behind. Plus apparently he used to watch her in the parking lot.
The ending of this book is totally bittersweet and a little open-ended, but I was fairly satisfied with it. Overall it was a good read, but not one that is going to stay with me for too long.
Rating Report
Plot
Characters
Writing
Pacing
Romance
Overall:
3.3